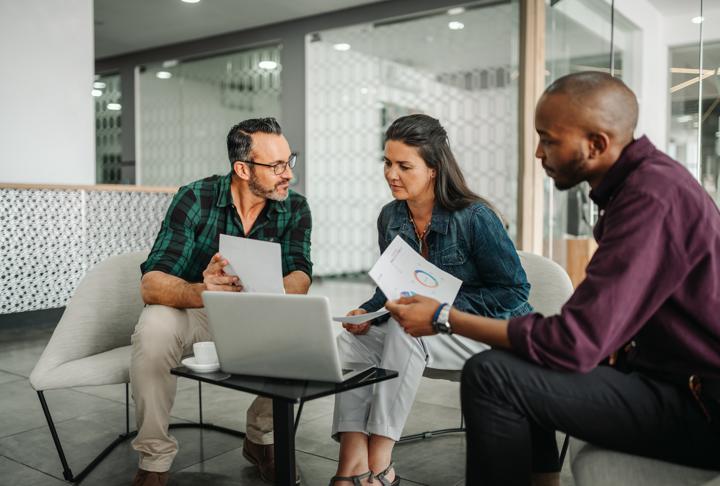 We live in an era of big data—from users' likes and comments on social media platforms to multiple transactions on e-commerce sites, we all contribute to this build-up of data that resides with the businesses we interact with.
Walmart creates 2.5 petabytes of data every hour from its customers' transactions. With upwards of 245 million customers, 10,900 brick-and-mortar stores and 10 websites, think of the wealth of information that could be gleaned from all this data.
However, data is merely an input. In itself, data cannot yield any valuable benefits - unless it is mined, processed and refined. Businesses need concrete strategies to handle and manage data. Once it is analyzed and the output is presented in the form of actionable insights, stakeholders can use the insights to make quick, accurate, data-driven decisions.  
An Economist Intelligence Unit (EIU) survey of 448 senior U.S. executives showed that 70% of respondents said analytics is 'very' or 'extremely important' to their own business's competitive advantage. Just 12% of respondents said that their analytics teams were well-informed about the emerging industry innovations in data analytics. Only 2% felt that their analytics capabilities had a broad and positive impact.
It is clear that most organizations have not yet matured their data analytics capabilities to achieve real, tangible and significant results. A lot more needs to be done in this area.
How do you turn business data into an asset?
As data in itself holds no value, organizations need to outline a clear data strategy. Using the appropriate processing, the right tools and expertise, the organization can gain useful actionable insights from the data. These insights can help them to:
●   Improve customer experience
●   Improve strategic decision making
●   Increase efficiency across various aspects of the business
●   Handle finances more effectively
●   Improve innovation process/time to market
●   Maintain a competitive edge in a digitally-driven market
It is important to understand why companies are struggling to leverage business data to gain actionable insights. Turning raw data into usable knowledge involves a series of steps to collect, cleanse, process and finally present data so that stakeholders understand and appreciate the implications of the results.
This process has to begin with an understanding of what metrics are important to the business. Measuring the right things is the first step to a solid data strategy, as you cannot improve what you don't measure!
Every business is unique and so there is no one-size-fits-all strategy that can yield actionable insights from business data.  Each organization needs to interpret what the data reflects about their business and what action should be taken to improve the most important metrics of the business.
Does your organization have a clear strategy of how to utilize the data you have available? 
Turning data into actionable insights
Here are 5 commonly used strategies that can act as an effective guide to turning data into useful insights:
1.  Focus on the source of data
There is no such thing as "perfect data". Business data comes from different sources and is likely to have some typical issues like outlier values, missing values, and/or faulty data input. Cleansing of data and preparing data for further processing are crucial steps. A faulty dataset could lead to wrong insights, which could cause more confusion for the decision-makers in the organization instead of helping them. Hence the integration of data becomes a very important task. It not only helps in making business decisions smarter but also quicker. Collecting data from different sources and connecting all the sources also enhances the company's understanding of its customers' behavior and provides better insights. Data scientists usually prefer to analyze a subset of the data from a data mart first, as it offers fast insights and more flexibility. They then expand their scope to analyzing other data sets that are comparatively bigger and more complex.
2.  Discover the context of the data
Whether it is a small chunk of data of personal usage or big data owned by corporations, there is likely to be a valuable insight concealed in it. To get better insights, data scientists must have an overall understanding of what the data signifies, so they can interpret the results from the data analysis. They must be aware of how the datasets were created. If the data was generated from connected devices, they must be aware of the limitations of those devices, if any. Knowing the requirements of end-customers as well as the needs and challenges of the business makes it easier for experts to understand the data in its correct context. Without an understanding of the context of the data, data analysts may be operating in a black box, and there will be a greater chance of interpretations going wrong.    
3.  Visualize everything
Using visualizations to clearly present the data can make a huge difference in the way stakeholders understand what the data represents. It is easy for data scientists and data analysts to make sense out of tables of data, but stakeholders or other non-technical team members such as sales and marketing teams may not find it very easy to find meaning in just rows of numerical values. A visual representation of data allows organizations to go beyond the traditional spreadsheets filled with numbers and words.
Visual analytics generally start with a simple sketch which is popularly known as "wireframe". This helps in mapping out how an ideal information dashboard should appear, in order to find all the answers that stakeholders want. The final design of the dashboard is finalized as soon as a selected team agrees upon the design. Such dashboards are equipped with appealing user interfaces that can display all the critical data in an easily understandable and insightful way.
Data visualization helps in showcasing cross-functional data as well as identifying the insights which are difficult to observe while dealing with numbers. Clear visualizations help in the retention of facts by removing confusion and promoting cognition. Using visual techniques like animated dashboards, graphs, 3D charts, etc., makes it easy to bring out the insights hidden in the data.
4. Create a 'smart' team
It's important to collect and process the right data and understand the context of that data. But it is equally important to gather together a team of professionals with the expertise to manage the data, interpret the results of the analysis and execute the actionable insights derived from it. A diverse and experienced team including skilled data scientists and analysts, sales and marketing managers, and experienced professionals who understand the operational aspects of the business are required to ensure the success of a data analytics project. If finding or hiring highly paid data scientists is not feasible, there are tools in the market that can generate automated insights using augmented data intelligence without the need for data scientists. These tools use advanced AI/ML to enable business users and stakeholders to view data analytics on custom dashboards and generate data visualizations easily.
5.  Be fast, be first
Speed is an important factor when it comes to data analytics. In today's data-driven world, real-time data has the maximum value. As time passes, the value of data and its ability to yield actionable insights may reduce. Spending too much time analyzing data in order to achieve perfect insights could invalidate the whole purpose of the analysis. Even large corporations do not analyze 100% of their data to decide and execute a plan based on the insights. Organizations must make fast decisions, and respond quickly as soon as a satisfactory insight is generated. Stakeholders must be aware of and avoid the phenomenon known popularly as "analysis paralysis." Execution of a plan is as important as, if not more important than, creating a plan!
Conclusion
Your data tells a unique and compelling story of your business.
The use of data intelligence and actionable insights is a very crucial step for a company to remain competitive in the ever-growing and developing digital world. Organizations need to spell out a clear strategy to utilize business data in the best possible way.
The right business solution, such as InsightOut, can provide AI-driven data insights that set the standard for the next generation of analytics. Actionable business insights, extracted from the consolidated data set, can be piped directly into the visualization layer and onto your dashboard.
Augmented data intelligence automatically uncovers hidden trends and outliers affecting outcomes without a complex querying process. InsightOut's decision-support tools are functionally designed to help business leaders identify actionable opportunities, reconcile gaps, and stay ahead of the competition.