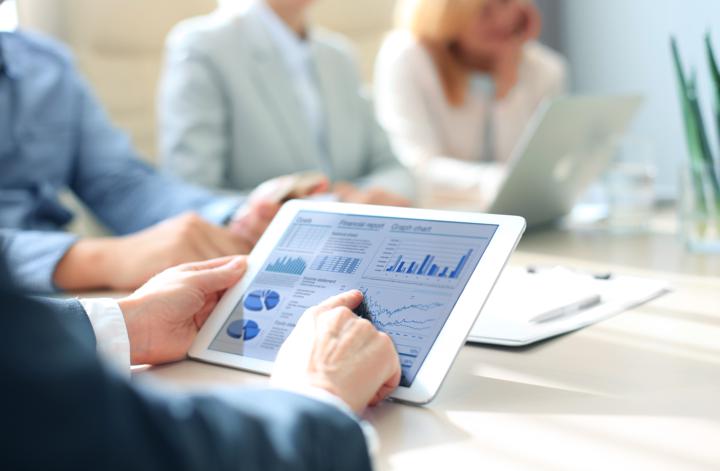 Data analytics once came under the exclusive purview of number-crunching data analysts and esoteric data scientists. The power to access, analyze and present data sets from complex statistical programs lay only within their restricted reach.
Technology has changed, and so have the business scenarios. Data is now accessible to more and more stakeholders – both internal and external. Key performance indicators of business performance are now available in easy-to-understand, graphical dashboards and reports. 
Ultimately, data is knowledge and making this knowledge accessible to employees, partners, investors, and other stakeholders is beneficial to the business at large. Data empowers employees and other stakeholders to make decisions and take actions that drive value for the company.
An organization, with its internal teams and external stakeholders, must collectively harness resources and capabilities to achieve common business goals and maximize the ROI on investments in data analytics and digital transformation in general. 
Define Who Are Your External Stakeholders
Any person or institution with an interest or affiliation with the organization can be defined as a stakeholder of that organization. Some stakeholders are employees of the organization and are therefore referred to as internal stakeholders. External stakeholders, on the other hand, are those who are not directly part of the organization but have some affiliation with it.
Examples of external stakeholders include clients, vendors, partners, and even investors who are not operationally involved with the organization. When it comes to government agencies or institutions, the general citizens or public groups could also be considered external stakeholders.
Stakeholders are important for the business – sometimes directly and at other times indirectly. Various aspects of the organization's operations and performance can affect the external stakeholders. Conversely, actions or decisions taken by external stakeholders can also affect the organization's business prospects.
Let's look at an example to understand this better: A company's core customers are its external stakeholders. Any change in their purchasing patterns can affect the company's gross revenue.  If we want to apply this to government agencies, consider the town's general public in a town as external stakeholders of the municipal body in the town. Any policy changes made by the municipal body affect the wellbeing of their external stakeholders, the general public.
Whether we talk about commercial organizations or governmental bodies, managing relationships with internal and external stakeholders is critical for their successful functioning. Keeping all stakeholders happy is not always a simple task, but doing so is bound to benefit the organization. A failure to engage external stakeholders and provide them with timely business metrics may hamper their decision-making and hurt the business's bottom lines.
It is crucial to clearly define who the most important external stakeholders are for the organization, understand their information needs, and empower them with business data and analytics to achieve these goals.
The Importance of Communicating with External Stakeholders
In most organizations, business data resides in many disparate and diverse software systems such as financial systems, CRMs, marketing tools, sales data sheets, and specialized programs for maintaining internal HR records. In addition to these, there are legacy records from pre-digital times, which may reside as physical paper records or as scanned images.
When data resides in separate silos and is not available in a centralized repository or an accessible format and location, it cannot be utilized to make data-based decisions – in a sense, the data is under-utilized and not harnessed for the benefit of the organization and its stakeholders. A data platform that consolidates data from disparate systems is an invaluable tool.
If data is to become a valuable and strategic asset for the business, it must be accessible to stakeholders, and relevant information must be distributed to the right stakeholders when it is needed. Moreover, the data must be in an easily understandable and usable format.  Modern data analytics platforms feature graphical interfaces, interactive reporting and animated visualizations that tell a story about the data. Some data platforms like InsightOut also allow you to distribute business data with external stakeholders using shareable reports and custom views of dashboards.
Access to relevant real-time business data ensures that stakeholders can contribute to growth, increased revenue, and higher profitability. It is important to communicate with external stakeholders and express this value to them in terms of tangible benefits. Once there is a buy-in with the external stakeholders, they will be willing to engage with your organization's data analytics initiatives and base further decisions on data rather than on their hunches or guesses about what will be better for your business.
Do You Provide External Stakeholders with Business Data Insights?
It is evident that in the modern enterprise, the CDO or Chief Data Officer plays a vital role in making data accessible and collaborating with stakeholders to achieve real business outcomes. Thus, data analytics has now become a core function of the digital enterprise rather than a mere support function. Data analytics plays a crucial role in the digital transformation of the organization.
When the CDO becomes responsible for core business outcomes, they must understand each stakeholder's information needs, work closely with them, and help them achieve mission-critical goals. This implies that their data strategy must include a detailed needs analysis of the stakeholders.
Gartner's Fifth Annual CDO Survey (2019) indicated that only 23% of respondents defined and tracked metrics to measure the value delivered by data and analytics to stakeholder outcomes.
Organizations that provide stakeholders with relevant business metrics will have access to better growth opportunities. The distribution of business data is a major determinant of the organization's competitiveness and success. In the digital era, strategic business intelligence (BI) is an absolute necessity, and informed, data-driven decision-making is the key to business success.
Are you engaging your external stakeholders with business data and insights? 
Enabling Data Dashboards for External Stakeholders
In the digital age, real-time business data and business insights are the most invaluable strategies a company has in its arsenal.
Strategic dashboards that communicate the overall health of the business to top management and investors are critical. They drive the future direction of the organization as they provoke further thought and analysis around key growth parameters and market trends.
Modern data analytics platforms must have the ability to share real-time dashboards with stakeholders both inside and outside the organization, at any time, from any location and any device. Democratization and seamless distribution of data lead to increased productivity and enhanced business success.
Self-service BI tools are now available that organizations can implement and use easily and without highly trained technical analysts or data scientists. These BI dashboards give external stakeholders access to invaluable data-driven insights.
BI dashboards remove information clutter and transform complex data sets into easily digestible insights that can be translated into winning business strategies.
They empower you to interpret operational data and derive actionable insights that drive value to your organization and your stakeholders.
InsightOut is a data platform that enables you to share custom views of BI dashboards with your external stakeholders.
Request a demo today and take a look at InsightOut's data management and data distribution capabilities.